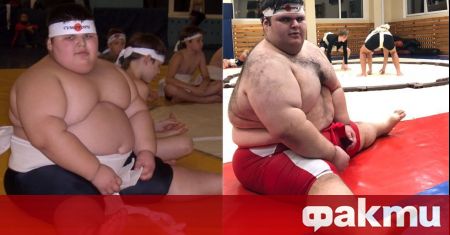 Russian sumo wrestler Dzhambulat Hatokhov, who became known as the strongest boy in the world, has died at the age of 21, RT Sport writes, quoted by mma.bg. Hatohov became famous for weighing nearly 50 kilograms before he was four years old. From an early age, he lifted weights that would be difficult for many adults. At the age of 6, Hatohov already had physical parameters that correspond to the average adult.
According to various sources, Hatohov held a world record for his exploits with his strength. In one of his appearances to the media in 2018, Jambulat said that he continued to grow rapidly, despite eating the way ordinary young people eat.
Hatohov's death was shared by Betal Gubzhev, president of the Kabardino-Balkaria Sumo and Wrestling Federation.
Here is one of the tips that Jambulat gave to his followers some time ago:
"People are always waiting for the perfect circumstances to start doing something, whether it's for study, business or training.
You need to understand that there is no ideal situation. Many opportunities will not fall out of nowhere, after which you can say – "Now is my time". The beginning of everything can only be your first step. "
The cause of death of the 21-year-old was not reported. Rest in peace!
Russia